Certifications & Memberships
We are proud to be (AMI) recognized by the Association Montessori Internationale reaffirming the quality of our programs through rigorous internationally recognized standards.
As a member of OMA, our guides, administrators, assistants and parents benefit from the many workshops and trainings this association offers. OMA strives to advance the Montessori movement, with a specific focus on the Oregon and Southwest Washington areas.
CERTIFICATIONS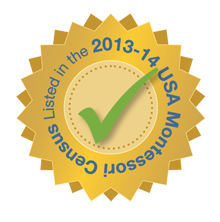 "At The Portland Montessori School, our kids learn to use buttons, tie their shoes, juice an orange, crack nuts and cut bananas, clean up after themselves, identify odd and even numbers, sew, set their place at the table, pour their own milk, understand the value of numbers into the thousands, and identify continents and countries on a map—and have fun doing it all!"
"The Portland Montessori School has given my children such an appreciation for learning and an extensive fund of knowledge. It has been a nurturing, appropriately challenging environment for them to reach their potential."
"I have taught in public schools for the past ten years, including six years in kindergarten, and I can attest that Montessori is different, special, and provides an optimum setting for children's growth and development."
"Our son's vocabulary, spelling, reading and social skills have grown by leaps and bounds under the Montessori method."
"We always knew that our daughter's curiosity and tenacity led her to love exploration and learning, but since she's been with The Portland Montessori School we've seen her develop personally in ways we hadn't imagined. She is all the better for the love, respect, friendship and encouragement she receives there."