Certifications & Memberships
We are proud to be (AMI) recognized by the Association Montessori Internationale reaffirming the quality of our programs through rigorous internationally recognized standards.
As a member of OMA, our guides, administrators, assistants and parents benefit from the many workshops and trainings this association offers. OMA strives to advance the Montessori movement, with a specific focus on the Oregon and Southwest Washington areas.
CERTIFICATIONS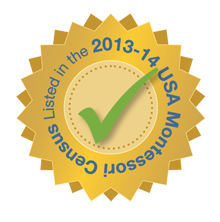 "Our son sincerely loves his guide, who shows him authentic kindness, warmth, and non-judgmental acceptance. Under her guidance, he has become a self-directed, competent, and curious learner who cares about the world and others around him."
"My wife and I can't thank the school enough for helping not only our son, but also us as we try to provide a consistent learning environment in our home."
"The Portland Montessori School has given my children such an appreciation for learning and an extensive fund of knowledge. It has been a nurturing, appropriately challenging environment for them to reach their potential."
"Yesterday my second grader added 61 plus 61 in her head and she's zipping through the Harry Potter series. So while the school doesn't measure her progress with test scores, I can see how much she has learned, but more importantly, I can see and feel her excitement about learning."
"When our son started kindergarten at The Portland Montessori School, his behavior problems stopped almost immediately. That's because he had interesting, engaging work to do. He's so proud to show us the work he's done when we pick him up after school."